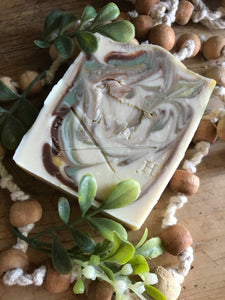 The aura of orange, lavender and pine with notes of patchouli, lemongrass, cashmere and musk makes Wild Child the perfect soap for boho lover on your list. Swirled with green French clay, organic cocoa powder and annatto seed extract, Wild  Child is STUNNING!
Smells like: Let your freak flag fly!
 Handcrafted with organic oils, natural oils, fresh creamy goats milk, green French clay, annatto seed extract,  organic cocoa and a hint of fragrance.