Not just a pretty bar of soap!
Luxurious, creamy, full of cerified organic oils and topped with beautiful botanicals and organic teas.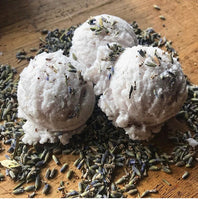 Mmmmm, bath truffles.
With a little notice we can whip you up the most beautiful, certified organic, oily bath treat. Bath truffles are making a mark in the bath and body industry and we couldn't be happier to provide you with a little bath luxury! These little truffles go a LONG way to helping moisturize tough, dry skin!
Message us for availability.
Small batch is THE best!
Making small batch soap keeps the quality at its finest and never mass produced. Made in a little heritage home kitchen with only the highest quality certified organic oils, teas, herbs and botanicals gives our soap the stamp of approval.
Oh, hey there....
Hey there! Welcome to Goats and Hoes Soap Co. I'm Jan, creator and mastermind behind all of this craziness! What started with a need to create turned into a small home based business! I'm raising three cool teenagers on my own which means most of my genius ideas come in the middle of the night when I have a minute to myself. I'm sure all the single parents can relate! So much love, care and humour have gone into my soap and I truly hope you enjoy each and every one! Thank you so much for all of your love and support, I look forward to bringing more inappropriate fun into our lives in the years to come!
Jan
Those Rocky Mountains....stir the inner fire and soothe the wandering soul.
Nestled in the Canadian Rockies, Cranbrook boasts the most amazing outdoor lifestyle. Check it out online or better yet, stop in for a visit!